Brendan James
Posts tagged with 'mixing'
"Can I See You Again" Explained
This was one of my first projects I worked on after moving to New York City.I teamed up with, then 19 year old Estonian model / singer Elvira K who had a strange affinity for R&B and soul music.
For this song I kept the production pretty basic focusing on the fender Rhodes even using the lower register of the instrument for the bass line.  I attempted to play guitar but only got in a "soul slide" so that's all I used. The Guiro, and strings  were inspired by "Playing Your Game Baby" by Barry white. Lyrical content more on the Stevie Wonder Side of things. I recorded the track in a Greenpoint studio / rehearsal space that I was sharing at the time, located a solid hour bike ride from my apartment in Sheepshead bay brooklyn.
This was the first time that I worked with drummer Andrew McLean, who replaced my programmed drums with  a reserved and perfectly pocketed hip-hop groove. I believe the same day we recorded the drums for another project, "Where We Go" which was originally going to be elvira's tune as well.
We tracked the vocals for "Can I see you again" over a period of about a month layering Elvira's multiple harmonies and working on the lyrics. We recorded the song line-by line to work out the phonics and rhymes and replaced the verses with live takes towards the end of the process. This was the first song elvira ever wrote.
A few months later I went up to boston with my mobile recording rig and got Ben Syversen to lay down a trumpet solo for this and the "where we go" track.
Credits:
Written By B. James and Elvira K
all instruments by Brendan James
Exceptions:
Drums – Andrew McLean
Trumpet – Ben Syversen
© 2008 Baked Potato Music
This was a small artist production project I did when I lived in Boston with for an artist named Beth Chandler – Circa 2006
Beth, a native of the Northeast considers herself "first and foremost a Poet",
she elaborates:
BC – "All of my songwriting begins as poetry…all of which are inspired by emotional situations I'm facing. Most of my lyrics revolve around love relationships gone wrong, which is pretty common I'm sure!"
With lyricism as the stronghold, the music fell into a position of respective ambience, a genre DJ Bak(ed P)otato knows well:
BP – "With (Apparent Concern), Beth and I both found ourselves focusing more on the lyrical content than the beats themselves. We would have sessions where we would be spend all of the time just writing, trying to come up with ways to best express ideas that we both held, and knew every body else had felt but couldn't voice. In working on the musical content I always gave Beth the center of attention, dealing with sounds thatt were more ambient, full and lush."
I got to sit in on a mixing session with The Phenomenal Handclap Band this past week at Salt Lands Studio – they're Right below 68 st. bar — who knows what records were mixed beneath me all these years in DUMBO? Looking forward to their new release sometime in 2012 on Tummy Touch records
Update Required
To play the media you will need to either update your browser to a recent version or update your
Flash plugin
.
UR GUN-quikmaster by AbstractRhythm Mixed and summed through our Allen & Heath Spectrum with her 16 channels of analog goodness. I am starting to see the benefits of mixing entirely analog with rock-style music. This track was all recorded live simultaneously, with secondary acoustic and electric guitar overdubs. 88.2k to cubase – compression and eq during tracking. Since […]
I spent most of today waiting for people to show up at the studio, and after 2 people cancelled (calling, or waiting for me to call them after our scheduled meeting time -what's up with these people) I decided to take out my frustrations on my new mix project with o-zi. I LOve working on mixes that are already 80% there rough or brought in by the clientthe artist has already worked out the song and made the mix as best as they can by themselves. The ideas are there and I just have to come in and work on things like CLARITY and fidelity. You know, like actual engineering stuff. This is very pleasurable for me because 90% I'm just find myself fixing problems that the artist should of figured out themselves. Its about working with what you've got, again and again, getting it the best YOU can and then bringing it into the studio.
O-zi is typical hip-hop with a nice underground sampled stoner aesthetic. I really like working on this type of hip-hop because its all about fidelity. Taking the original files from logic I upsampled to 88.2k and did some basic compression / shaping techniques in the box before breaking out everything across the console. Because I was going for a very "analog" sound I was resolved to do as much out of the box as I could. I played around with the 20 or so tracks through the board shaping with the consoles eq and a couple outboard compressors on the vocals. Because I still wanted to do some serious sidechaing and digital subroutine and maximizing of which I only know how to do in the box I then re-tracked everything back into Cubase using the direct outs of the board. This froze all of my levels, and eq at 88k in the session so when I moved back it the box I could generally keep my fades at unity gain. I don't have any technical reasoning for this, but I believe the less you manipulate a digital audio track in a DAW through gain eq and plugins, the better.
I did my subgrouping, bus compression and grouping in Cubase and the re-sent the groups back through the console where I mixed the 4 stems and printed the master back into the program, and viola! Hybrid 88.2k digital and anolog mixing! I'll post the mix up here in a few days, listening back on the bus to New Paltz NY through Barbuds and I am VERY pleased.

Through understanding of this general concept the mix engineer usually goes on to elaborate on this identity, exaggerating on the specific style sonically and stylistically. I've been having a particularly hard time the mix on this track, "Amathyst Rocks" and it's overall musical concept in general. Is it hip-hop, soul, rock?

On first listen I would describe the essence of the this track as Hip-Hop with the live feel of rock, but with so much space to work with between two genres the direction of where to go with mix-wise remaind a little unclear. When I think and mix hip-hop I typically think of dry, punchy, kick heavy drums. I also usually think in terms of only a few elements: the drums, the sample or melodic content, the lyrics and the ad-libs. When approaching a mix from a rock perspective I usually think about ambiance a lot more, more compression, more room sounds, more distortion and overall aggressiveness. Part of the challenge with Amathyst is the various changes in the song, the verses are very hip-hop, with a heavy rimshot, almost reggae-ish back beat. The Choruses explode with the addition of the background vocals and horns.
Conceptually as I approached this mix I wanted to go from tight to wide and big in regards to the verse / chorus alternation. The main ingredient towards achieving this was the treatment of the drums in the mix. I am very familiar with mixing tight R&B and Gospel flavored drums, with a general inspiration being drawn from mid-seventies funk and pop recordings. (Steely dan, The Isley Brothers ect.) I usually accomplish my tight drum mixes by relying primarily on the direct mics on the kit ( kick, snare, hi-hat). In the mix I use expansion or transient shaping to bring out attacks on each of the individual drum elements and bus them together. I then lightly mix in the overheads and apply a heavy compression to the bus that incorporates the punchy combo of slow attack and fast release. Lately I've been working on better mixing drums with in the style 2000 era rock (incubus, the white stripes ect.) undoubtedly achieving this style depends largely on the idea of "variable ambiance" (direct / compressed room) and the use of various room microphone placement techniques that specifically exaggerate the ambiance of kit.
For the Amythyst track I began by first mixing two stems of the drums: one highly expanded and/or gated and dry, the other an exaggerated room track compiled by using the totally squashed ambient mics.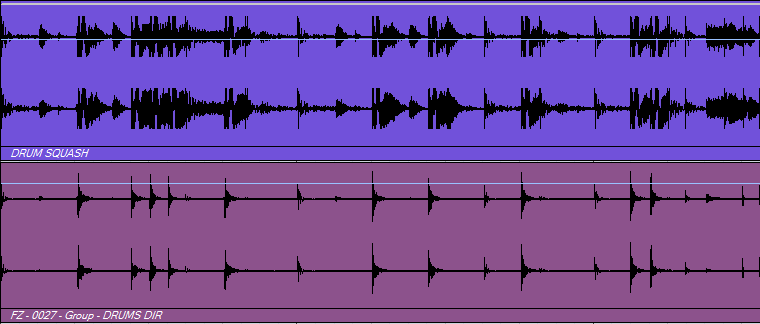 I had this vision of triggering and gating the ambiance with the direct mics in this way achieving a natural gated re verb which I could then mix back into the drum bus ala 'variable ambience'. The side-chained gated idea turned out to be a little harsh, so I used a trasient shaper on the room mics and sloped the attack past the direct attack of the drums

With all this being said I still don't think this mix nails it. I have definitely achieved the drum sound that I want, but problems still exist with the feel, immediately listening today (2 days after the mix) I am struck by a feeling of too much roominess and verb. Have I overcompensated for the dry elements apart from the drums by applying too much verb? Perhaps. I also have struggled in this mix with the placement of the vocals and keeping them on top of everything. As I did not record these vocals, I have been having a perticularly hard time with their quality. A good quality vocal will generally cut through a mix without much effort and, as is true with most things in the digital audio domain the more processing you add, the more clarity you loose. You can tell by my extensive use of FX / distortion on the vox that I am desperatly trying to get the vocals to cut artificially. They cut, but I the believe that the distortion and delay are having a general downing effect on the mix that is making the whole thing sound a little too lo-fi for my tastes.