Brendan James
Posts tagged with 'mixes'
 "Where We Go"
This song has quite a long story. I began working on it while on tour with The Acting Company in 2007 where I collaborated with Cellist Debbie Friedman in between shows with my mobile recording rig on the tour bus. Returning to Brooklyn, I flushed out the string parts with Violinist Jaime Marcello. Drums were recorded sometime in 2008 and slowly a song that had started out entirely digital and programmed was beginning to take a larger, livelier shape.
I originally wrote the lyrics to try and convey a the technological and mechanistic overload that I was feeling in New York City. I was commuting daily to Manhattan from Sheepshead bay, Brooklyn in race where everyone seemed to be moving so fast, but where I felt little progression our society on a whole was being made. I always had it in mind that a female would sing the vocals, and when I began working with Elvira K I petitioned the track to her. After struggling through a few sessions we realized that the voice of the song wasn't her's.
A year later with Abstract Rhythm in full swing. I was out with my partner Andrew attending a performance by Travis Sullivan's Bjorkestra where I was able to see Natalie John fronting the 18 peice group. I immediately approached her after the show and ask if she would give "Where we go" a try, to which she agreed!
Natalie's vocals were recorded with an AEA R84 Ribbon mic. She was able to work quickly with the guide vocals from Elvira and I believe we knocked out the takes in 2 days.
This track was an exercise in mixing with almost all of the elements recorded separately and in different locations. I ended up bringing Debbie Friedman back to the studio 3 years later to flush out and replace her original cello recordings from the tourbus. I also enlisted Jeffrey Young to play unison on top of the parts that Jaime had recorded earlier in an early string quartet -type experiment which was recorded WAY more difficult than it needed to be. This track was my first time arranging for strings, which was a learning process as well. I originally had used a sampled trumpet solo recorded by Ben Syversen at his apartment in Cambridge, MA sometime in 2008. Ben moved to Brooklyn sometime thereafter and I was able to get him into Abstract Rhythm to put some finishing touches on his part. I really like the presence ben has on this song and the harmonies that developed between his horn and Natalie.
All and all this track proved to be the introduction for me into a new style of live / electronic hybrid production made possible by the many excellent musical connections gathered in New York city.
[info_popup pop_title='Where We Go - Lyrics' message='PASTE THE MAIN TEXT HERE' Lyrics[/info_popup]
Credits:
Original Release Date: 02-01-2010
Natalie John – Vocals
Andrew McLean – Drums, Percussion
Debbie Friedman – Cello
Jaime Marcello – Violin
Jeffrey Young – Violin
Ben Syversen – Trumpet
DJ Baked Potato – Production
Brendan James – Background Vocals
Mixed By Brendan James at Abstract Rhythm Studio Brooklyn, NY
"The Chance To Choose"
Originally Recorded 2009 for the Strange Places Record this track was never released. I was very pleased with how the string arrangements came out as well as the instrumentation on this track.
Credits:
Vocals: Brendan James
Drums: Andrew McLean
Violin: Jeffrey Young
Cello: Yoed Nir
Mixed By Brendan James at Abstract Rhythm Brooklyn, NY
Strings Recorded 10/15/2008
Jeffrey Young & Yoed Nir Record Strings for "The Chance To Choose" at Abstract Rhythm Studio Brooklyn, NY Photo: 10/15/2008
Jeffrey Young & Yoed Nir Record Strings for "The Chance To Choose" at Abstract Rhythm Studio Brooklyn, NY. Photo: 10/15/2008

New animation released from band Blue Monarch: You Are Gone | BLUE MONARCH from Serkan Ertekin on Vimeo. Love is something you need to fight for, struggle for. For the ones who have done anything on its chase of possession, recovery or failure. Directed by Serkan Ertekin. Production: Artechin Production Band: Blue Monarch. The Video just released by Blue […]
Robot Girlfriend by O-Zi and Saeid mixed at Abstract Rhythm Recording by Brendan James Funn project here

Through understanding of this general concept the mix engineer usually goes on to elaborate on this identity, exaggerating on the specific style sonically and stylistically. I've been having a particularly hard time the mix on this track, "Amathyst Rocks" and it's overall musical concept in general. Is it hip-hop, soul, rock?

On first listen I would describe the essence of the this track as Hip-Hop with the live feel of rock, but with so much space to work with between two genres the direction of where to go with mix-wise remaind a little unclear. When I think and mix hip-hop I typically think of dry, punchy, kick heavy drums. I also usually think in terms of only a few elements: the drums, the sample or melodic content, the lyrics and the ad-libs. When approaching a mix from a rock perspective I usually think about ambiance a lot more, more compression, more room sounds, more distortion and overall aggressiveness. Part of the challenge with Amathyst is the various changes in the song, the verses are very hip-hop, with a heavy rimshot, almost reggae-ish back beat. The Choruses explode with the addition of the background vocals and horns.
Conceptually as I approached this mix I wanted to go from tight to wide and big in regards to the verse / chorus alternation. The main ingredient towards achieving this was the treatment of the drums in the mix. I am very familiar with mixing tight R&B and Gospel flavored drums, with a general inspiration being drawn from mid-seventies funk and pop recordings. (Steely dan, The Isley Brothers ect.) I usually accomplish my tight drum mixes by relying primarily on the direct mics on the kit ( kick, snare, hi-hat). In the mix I use expansion or transient shaping to bring out attacks on each of the individual drum elements and bus them together. I then lightly mix in the overheads and apply a heavy compression to the bus that incorporates the punchy combo of slow attack and fast release. Lately I've been working on better mixing drums with in the style 2000 era rock (incubus, the white stripes ect.) undoubtedly achieving this style depends largely on the idea of "variable ambiance" (direct / compressed room) and the use of various room microphone placement techniques that specifically exaggerate the ambiance of kit.
For the Amythyst track I began by first mixing two stems of the drums: one highly expanded and/or gated and dry, the other an exaggerated room track compiled by using the totally squashed ambient mics.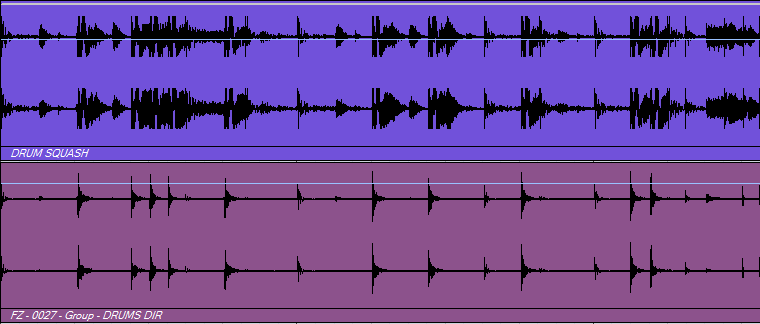 I had this vision of triggering and gating the ambiance with the direct mics in this way achieving a natural gated re verb which I could then mix back into the drum bus ala 'variable ambience'. The side-chained gated idea turned out to be a little harsh, so I used a trasient shaper on the room mics and sloped the attack past the direct attack of the drums

With all this being said I still don't think this mix nails it. I have definitely achieved the drum sound that I want, but problems still exist with the feel, immediately listening today (2 days after the mix) I am struck by a feeling of too much roominess and verb. Have I overcompensated for the dry elements apart from the drums by applying too much verb? Perhaps. I also have struggled in this mix with the placement of the vocals and keeping them on top of everything. As I did not record these vocals, I have been having a perticularly hard time with their quality. A good quality vocal will generally cut through a mix without much effort and, as is true with most things in the digital audio domain the more processing you add, the more clarity you loose. You can tell by my extensive use of FX / distortion on the vox that I am desperatly trying to get the vocals to cut artificially. They cut, but I the believe that the distortion and delay are having a general downing effect on the mix that is making the whole thing sound a little too lo-fi for my tastes.